Click to Link to INTERVIEWEES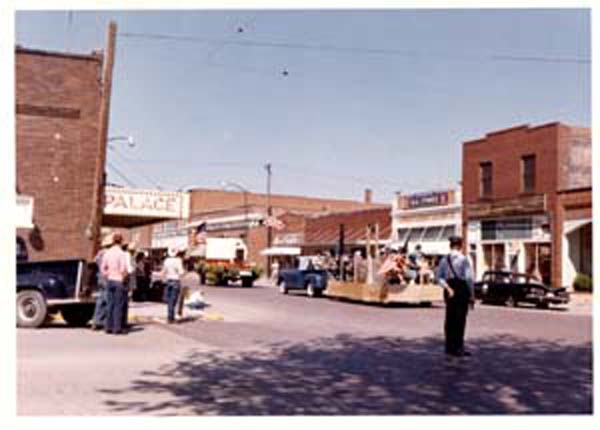 Kansas Centennial Parade, 1961, Downtown Kinsley
In 2011 Kansas will be celebrating 150 years of statehood. In 1930 Edwards County had a peak population of 7,295. By 1970 the population had declined to 4,581. This decline began with the Great Depression and Dust Bowl followed by the demands of World War II. The modern mechanization of the farm, educational opportunities provided by the G.I. Bill, and the availability of good jobs in the cities continued the migration away from the county through the 1950's and 1960's.
In November, 2010, the Kansas Humanities Council awarded the Kinsley Public Library a Heritage Grant in the amount of $3,252 to support an oral history project, Patterns of Change, which will collect and preserve 20 interviews of citizens who lived in Edwards
County between 1950-1970. (Grant Application),
(Evaluation), (Invitation), (Foyer Display) Stack Displays: (Sports), (Health), (Weather), (Better World), (Korean War), (Joy), and (Community).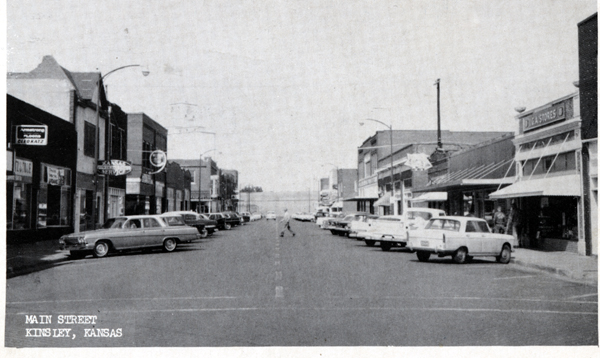 Main Street, Kinsley, Kansas 1963
Click to Link to INTERVIEWEES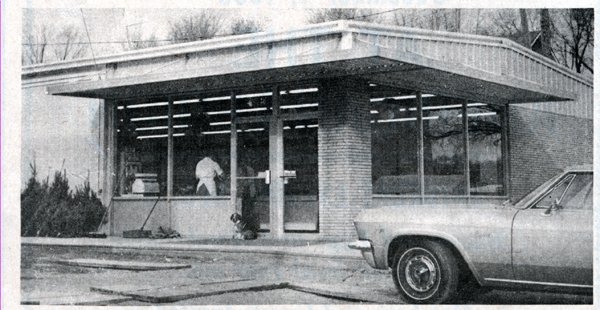 Northside Grocery Store, Kinsley, 1966
The loss of 3,000 people brought about many changes and consolidations in the county's small communities, businesses, farms, schools, libraries, churches, and medical facilities. This project hopes to rediscover the conditions and changes that took place in Edwards County from the people who experienced them to give insight into facing these same challenges today when the population of Edwards County is 3,071.
Patterns of Change will record the stories of the people who chose to stay in Edwards County and sustain viable communities and farms. Interviewees will be selected from all parts of Edwards County to represent farmers, business people, educators, medical personnel, and church congregations. If you or someone you know lived in Edwards County from 1950 to 1970, their story could become part of this project. Please contact the Kinsley Library at 620-659-3341 if you would like

to suggest an interviewee.
Ken Bartman, Korean War Keith Dupree, Vietnam War
Kenny Gaines broadjumping to a
State Championship in 1965
Two interviews will be conducted each month from January to October, 2010. They will be recorded on CD from which written transcriptions will be made. An interviewee photograph and short video clip will also preserve the visual aspect of the interview. Interviewees will be asked to share personal photographs of their lives during the time period. All of these documents will be linked to this webpage. Copies of CD's with transcriptions will also be shared with the Edwards County Historical Society, the Kansas Historical Society, and the Kansas Folklore Society.
Principal funding for this project is provided by the Kansas Humanities Council,
a nonprofit cultural organization
promoting understanding of the
history, traditions, and ideas
that shape our lives and
build community.
Edwards County Hospital, 1960 (Click here for Hospital history)